"Whether you are looking to buy or sell, we are committed to successfully meeting your goals."
Erica Hoffman and Josh conzemius
No one is more prepared to help you achieve the results you want when buying or selling your home than Erica Hoffman and Josh Conzemius of  Hoffman Homes Tucson.
Combining incomparable pricing expertise with extensive experience and market savvy — Erica and Josh are the perfect choice to help you navigate today's real estate market.
We're so proud to announce that Hoffman Homes Tucson has won

the ICON Agent Award

3 years in a row with eXp Realty! We are now 3X ICON Agents!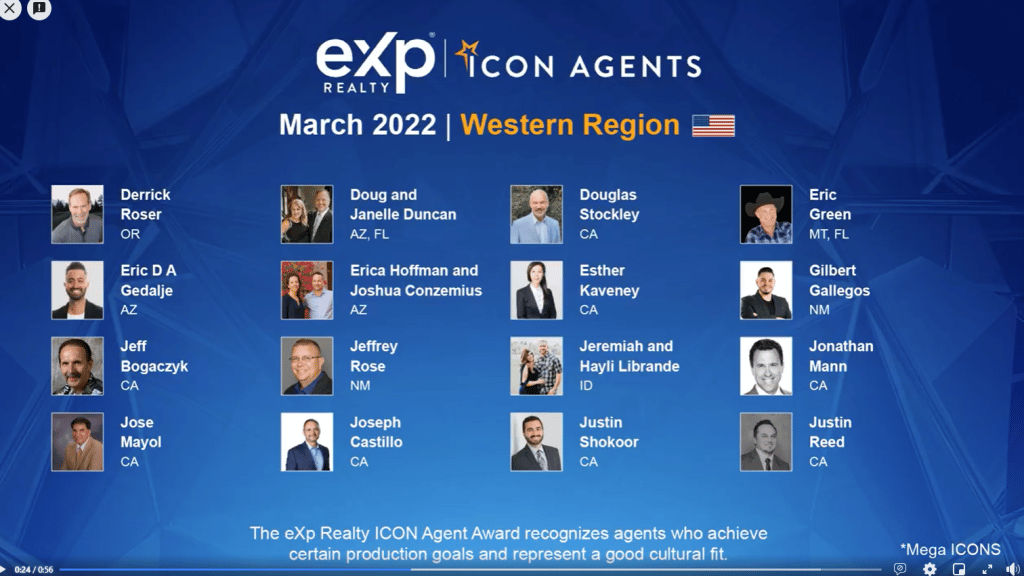 We recently achieved The ICON Agent award for the U.S. Western Region with our company, EXP Realty. Why? Because of YOU!
With your referrals and business, we were able to help sell over 40 homes to families like yours over the last 12 months. Only 2% of agents at our company which is in all 50 states, and in Canada, United Kingdom and Australia receive this award.  We are so proud and honored to have received the designation.  
So what does it mean to be an ICON Agent? We are required to be leaders at the company now.  We are responsible for being teachers and mentors to other agents at our company.  It's part of the company's culture to give back.  
We wanted to sincerely thank all of you for supporting our business over the years. Because of you we are able to continue to help families with their real estate goals.  We realize this is stressful times for many.  There certainly is a lot of adjusting to do.  Please call us and let us know how you're doing and share what areas of your life you need help in.  We are glad to refer you to professionals we know that can help you in many areas.   
What people are saying....
"My sister hired Erica to sell her house after several unsuccessful attempts with two other realtors. The house sold in just 4 weeks. Erica isn't just a trusted Realtor, she has become a friend."
"Erica did neighborhood comps and actually raised the selling price. After we closed, I realized how very complicated and confusing the process can be in today's market is. I couldn't have done it without her."
"Choosing a realtor was difficult as we had several realtors with compelling resumes, so-to-speak. We chose Erica and were happy with the choice we made. In anything I do, if I have to choose representation to be my voice, I want a strong voice. We had some challenges in the sale of our house, and Erica was proactive, professional and knew what arguments/negotiations to make. She's a great communicator and always kept us in the loop. She made us aware of our options so we could make our decisions accordingly. With her experience, knowledge, professionalism and most importantly, proactiveness, I highly recommend Erica for your buying and selling needs!"
"I have been working with Erica and Josh for about six or seven years (I have rentals, and occasionally buy a house to fix up and sell). During my first encounter with Erica, I discovered that she actually listened to the things I said – which was different from my previous experience with most real estate agents. She is thoughtful, analytical, and will give you her perspective on a property in a straight-forward manner. That has been the case with all sales and purchases that they have handled for me. With them, determining the sales price for a house is an objective process: I have a price in mind, they show me what the market value is, we discuss the condition of the house and agree on a price, and the house sells in usually two or three weeks. After the first two houses that sold that way, I became convinced of their expertise. During the recent purchase of a house, Josh stayed on top of everything. He made sure that things were on schedule, promptly found answers to questions I had regarding the property, and generally made the process run smoothly. It is very comforting to know that my next sale/purchase will not be a hassle."
"At the start of the pandemic I was faced with a very difficult decision as my business was suddenly forced to close. Selling my property was the clear choice. I needed support and guidance to navigate the complex real-estate market. What a relief is was to have Erica and Josh by my side during these unprecedented times. Their combined knowledge and expertise supplied me with the peace of mind I needed and helped me achieve my goals. Highly recommend."
"We were selling our house in Tucson but had already moved to Washington state and were looking for a new realtor after it didn't work out with our previous one, he didn't seem to have our best interest. We were having a hard time finding a new realtor when Erica contacted me about selling our house for us. It was the best decision we could have made, I could tell she was a go getter and would do a great job. The house was pending within days of getting back on the market. Erica had our best interest the whole time. When things didn't work out and I was dealing with depression from the weather in Washington Erica was positive and easy to talk to. So when we decided to move back to Tucson she was there to help us find a house. She even helped us find a wonderful realtor to help us sell our house in Washington. After showing us around a dozen houses in two days we picked one that we wouldn't have thought of, but we are very happy with the house she found us. We would definitely recommend Hoffman realty to anyone looking for a home."
Address 
1 South Church Avenue
Tucson, AZ 85701